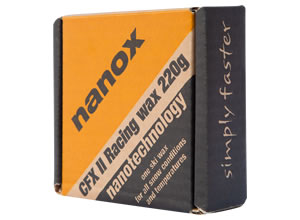 Nanox CFX II
Description:
One racing wax for all snow conditions and temperatures. Top glide performance thanks to nanotechnology.
Up to 5% faster.
It's fluorine-free.
Super simple application.
Nanox CFX II race wax 220 g for 15 - 20 pairs of skis.

DETAILS
Training wax
Description:
It's a glide wax for training and base preparation for the highest ground speed with constant use.
Protects the base.
Lasts longer.
It's fluorine-free.
Super simple application.
Training wax 300 g for 25 - 30 pairs of skis.

DETAILS
Training extra hard
Description:
Extra hard glide wax & base preparation for extremely cold conditions and high friction. Especially for Downhill and Super G.
Protects the base.
Lasts longer.
It's fluorine-free.
Super simple application.
Training extra hard 300g for 25-30 pairs of skis.

DETAILS
Supernano II
Description:
Special wax for extremely warm and wet conditions. For snow temperatures around 0°C / 32°F degrees. Top glide performance thanks to nanotechnology.
Up to 5% faster.
It's fluorine-free.
Supersimple application.
Nanox Supernano II 15 g for > 100 pairs of skis.

DETAILS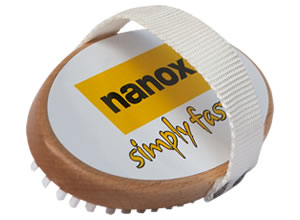 Nanox brush
Description:
Extreme hard nylon brush.
Ergonomically formed nylon brush
to brush and polish Nanox waxes.
Used For: Race, All-Mountain, Powder skis and Snowboards.
Price: 35,00 EUR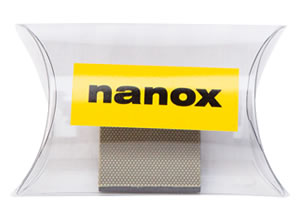 Magnet / Diamond
Description:
It's an innovative tool used for the edge finishing (after using the side-edge and base-edge files or after using the edge/tuning machines). One tool two materials, the diamond used for sharpening, removing burrs and a special magnet for cold formingfor and hardened edges. For the highest performance on any snow surface. A great tool to carry in your pocket on the mountain also! Used For: Race, All-Mountain, Powder skis and Snowboards.
Price: 59,00 EUR
Nanox Scraper
Description:
It's a 4mm plexi wax scraper for removing excess wax from the base of skis. Used For: Race, XC, All-Mountain, Powder skis.
Price: 8,00 EUR
Nanotechnology
The advantages of Nanotechnology in ski waxing are: The coating of wax has an extremely long bonding time when compared to other waxes. It enables the best gliding performance under all conditions because of the Nanoparticles ability to adapt to the extreme changes in temperature and humidity.

It is through much collaboration with expert analytical chemists from several countries, specialising in Nanotechnology that we've succeeded in the development of NANOX wax. Today many world cup servicemen along with well known ski manufacturers are using and testing NANOX wax and grinding machines. Their results and input continue to help us further develop our products.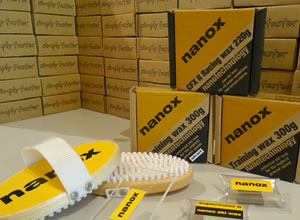 NANOX WORKSHOP
Professional ski preparation: base preparation, base repair, ski tuning, waxing, presentation of Nanox products, analysis of your own skis.
Nanox simply faster.

APPLY TODAY!