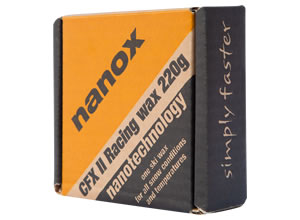 Nanox CFX II
Description:
One racing wax for all snow conditions and temperatures. Top glide performance thanks to nanotechnology.
Up to 5% faster.
It's fluorine-free.
Super simple application.
Nanox CFX II race wax 220 g for 15 - 20 pairs of skis.

DETAILS
Training wax
Description:
It's a glide wax for training and base preparation for the highest ground speed with constant use.
Protects the base.
Lasts longer.
It's fluorine-free.
Super simple application.
Training wax 300 g for 25 - 30 pairs of skis.

DETAILS
Training extra hard
Description:
Extra hard glide wax & base preparation for extremely cold conditions and high friction. Especially for Downhill and Super G.
Protects the base.
Lasts longer.
It's fluorine-free.
Super simple application.
Training extra hard 300g for 25-30 pairs of skis.

DETAILS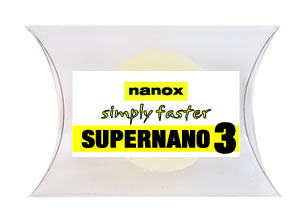 Supernano 3
Description:
NEW! Special wax for extremely warm and wet conditions. For snow temperatures from -3 to 3ºC / from 26,6 to 37,4ºF degrees. Top glide performance thanks to nanotechnology.
Up to 5% faster.
It's fluorine-free.
Supersimple application.
Nanox Supernano 3 15 g for > 100 pairs of skis.

DETAILS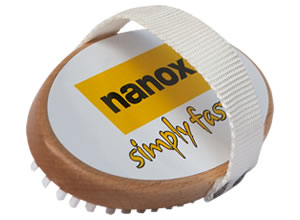 Nanox brush
Description:
Extreme hard nylon brush.
Ergonomically formed nylon brush
to brush and polish Nanox waxes.
Used For: Race, All-Mountain, Powder skis and Snowboards.
Price: 35,00 EUR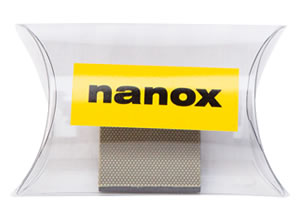 Magnet / Diamond
Description:
It's an innovative tool used for the edge finishing (after using the side-edge and base-edge files or after using the edge/tuning machines). One tool two materials, the diamond used for sharpening, removing burrs and a special magnet for cold formingfor and hardened edges. For the highest performance on any snow surface. A great tool to carry in your pocket on the mountain also! Used For: Race, All-Mountain, Powder skis and Snowboards.
Price: 59,00 EUR
Nanox Scraper
Description:
It's a 4mm plexi wax scraper for removing excess wax from the base of skis. Used For: Race, XC, All-Mountain, Powder skis.
Price: 8,00 EUR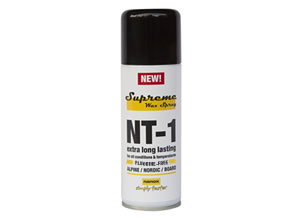 Nanox Spray
Description:
NEW! Supreme wax spray NT-1 extra long lasting for all condition and temperatures. INSTRUCTIONS FOR USE: Apply all over the entire ski base by spraying uniformly from a distance of about 20 cm. Leave it to dry for 5 - 10 minutes and brush with Nanox nylon brush. Polish with Nanox nylon brush. Shake well before use. Fluorine-free.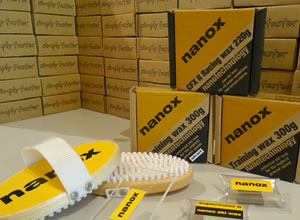 NANOX WORKSHOP
Professional ski preparation: base preparation, base repair, ski tuning, waxing, presentation of Nanox products, analysis of your own skis.
Nanox simply faster.

APPLY TODAY!